When I flush, I hear water spraying in my tank and I can't see where it's coming from.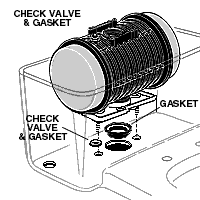 Turn off your water supply and flush the toilet.
Disconnect the water supply and plastic locknut that holds the shank (pressure vessel) to the bottom of the tank.
Remove the 2 mounting bolts (brass).
Carefully pull the entire Pressure Assisted vessel out of the tank.
Inspect the check valve and be sure it is "pushed" in place.
Are both the black rubber gaskets and check valve present?